The January 2010 issue of "Benny Bear Bulletin" (company newsletter) just came out today. On the front page is an article written by Marc D. Bridge. (Marc is an Associate Counsel at Ben Bridge Jeweler, and the son of Co-CEO Ed Bridge.) Here's the PDF file of the front page for your reading pleasure.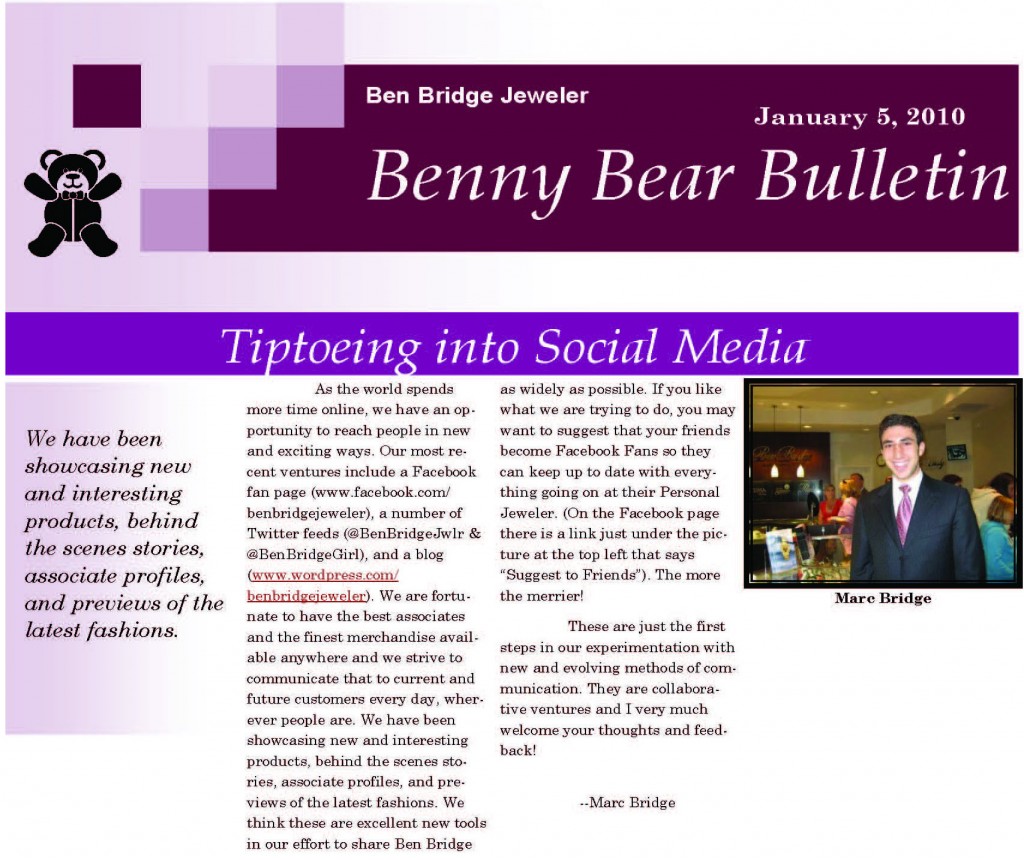 Last fall, I blogged about my social media adventure as "Ben Bridge Girl", which began quietly in September 2008. Now, 1.5 years later, the topic of social media has made the front page of the company bulletin, and I'm really glad to see it. "Tiptoeing" is a good way to describe what's been done so far. Marc is growing the company blog's content and securing approval from the legal department. I'm getting more interactions on the Facebook fan page. It's also nice to see a mention of the @BenBridgeGirl Twitter account in his article.

For many traditional organizations, adopting social media is challenging due to the existing corporate culture and structure, and Ben Bridge Jeweler is no exception. Before seeking returns from social media, there needs to be open and ongoing conversations about it in the company. During the weekly social media chat on Twitter today, Frank Eliason (@ComcastCares) said: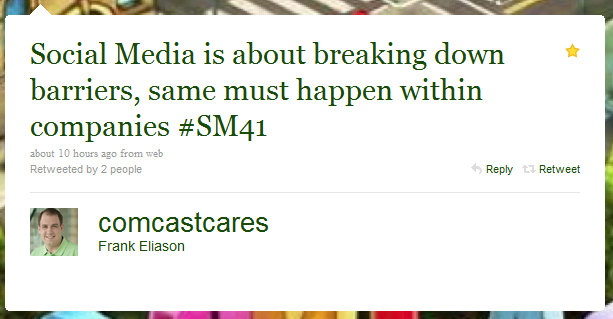 I couldn't agree more. It has already been demonstrated that consumers and employees can speak louder and even take over a brand's voice. (Remember Motrin Moms? Domino's Pizza?) The smart thing to do is being upfront and proactive in talking about what your company is doing. Everyone in the company needs to be on the same page about this, from the CEO to the receptionist, from the controller to the sales associates. Yes, I understand and appreciate the concerns a company may have about engaging in social media; however, being vigilant and being human are not mutually exclusive. The jewelry retail business is perfectly suited for *being human.* After all, it exists and thrives because of the very human need to express emotions, be it joy, pride, love, or vanity. I would love to see Ben Bridge Jeweler take a leadership role in the industry's adoption of social media, and that the tiptoeing turn into a nice stroll in the near future.